Five Big Ideas for Effective Teaching, 2nd Edition
Connecting Mind, Brain, and Education Research to Classroom Practice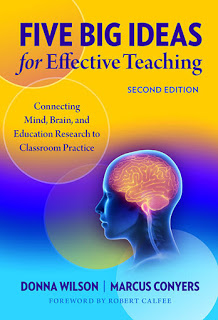 The second edition of this seminal text is designed to empower educators with an innovative and inspiring conceptual framework for effective teaching. This bestseller is grounded in the synergy of five big ideas for connecting mind, brain, and education research to classroom practice: neuroplasticity, potential, malleable intelligence, the Body-Brain System, and metacognition. Updated and expanded to include new sections on social and emotional learning, this edition offers a firm foundation for implementing current rigorous standards. The authors draw on their experience working with tens of thousands of educators worldwide to drive the book's focus on practical application. Essential ideas are reinforced through vignettes, examples, inspirational stories from teachers, strategies, reflective questions, and current research on how people learn.
New for the Second Edition:
An exploration of how guiding students to develop social, emotional, cognitive, affective, and behavioral competencies can improve their personal relationships, peer and teacher interactions, and academic outcomes.
An examination of recent advances in understanding how brain plasticity extends over the life span, how working memory supports students to tackle more complex learning tasks, and how teaching students about growth mindsets can power learning.
A synthesis of the science behind the power of positivity, learning potential, metacognition, the social aspects of cognition, and the Body-Brain System for classroom and school applications.
An expanded reference list with relevant new publications.