Flourishing in the First Five Years
Connecting Implications from Mind, Brain, and Education Research to the Development of Young Children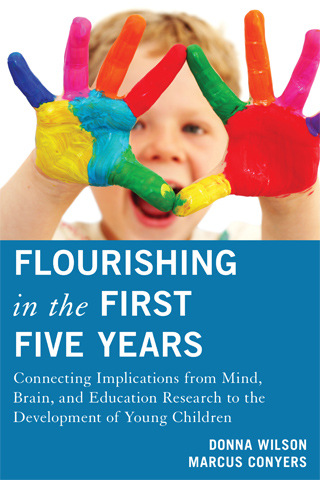 By Donna Wilson and Marcus Conyers
This book for early childhood educators, caregivers, and parents of infants, toddlers, and preschoolers explores how exciting and practical findings from mind, brain, and education research can be applied to help every child flourish in his or her early years and be ready to thrive on the first day of school—and every day thereafter. It offers answers to many questions parents and caregivers may have:
How can we best guide young children to become "the boss of their brains" by developing self-control and problem-solving abilities?
How does learning affect the brain, and what does that mean for every child to be able to achieve his or her unique potential?
What do we need to know about recent discoveries regarding learning through imitation and mirror neurons?
How can we foster a love of learning among toddlers and preschoolers that will serve them throughout their lives?
Why is an optimistic outlook important for young children and the adults with whom they interact?
How do healthy eating, proper hydration, and adequate sleep enhance learning?
How can we support the development of young children's early literacy and creativity?
Within these pages, you'll discover hands-on strategies to support young children's natural curiosity and fascination with new ideas; perspectives from practicing early childhood educators about the implications of mind, brain, and education research; engaging stories with animal characters to illustrate the use of learning strategies for young children; and a five-step learning process to help toddlers and preschoolers apply and build on their developing skills, knowledge, and abilities.
Praise for Flourishing in the First Five Years:
"This book crosses the research, theory, and practice divide because it supplies seminal and current research from neuroscience at an understandable level and links this to everyday strategies that teachers, parents, and caregivers can use to make a difference in children's lives. Key are the authors' use of cognitive assists, the recurring AEIOU model based on the learning cycle, and the simple animal stories that help children learn to be the boss of their brains. . . . Once I started reading the book, I could not put it down." —Debby Zambo, Division of Leadership and Innovation, Arizona State University; coauthor of Early Childhood and Neuroscience: Links to Development and Learning
"This is an encouraging and optimistic book that offers hope for future generations of learners. Knowledge of the critical importance of the first five years for optimal development has been acknowledged for decades, but Donna Wilson and Marcus Conyers take this salient fact to another level with their explanations of the malleability of the brain during this time and with specific ideas of how to maximize and unlock the potential within each child. The authors provide creative and practical strategies that can easily be implemented by parents, teachers, and other caregivers."
—Marcia Stewart, professor of education with expertise in early childhood education,
Lipscomb University
"Wilson and Conyers put all the pertinent research together with high-quality early childhood practices to create a guide for parents, teachers, and educators everywhere. The storytelling lessons on 'hard-to-teach' topics become real and relevant to children. This book is an excellent summary of what a young teacher needs to get started as well as an excellent guide for the veteran teacher who is always learning."
—Sarah Sprinkel, director of elementary education/Florida services for Florida virtual school and city commissioner, Winter Park, Florida
"Flourishing in the First Five Years is an enjoyable book to read, and I think it would be a valuable tool for any parent or educator who is interested in exploring the connection between current brain research and child development. The authors' writing style and use of real scenarios for applying strategies help make these concepts understandable."
—Karen Sinclair, director, First Congregational Church weekday preschool and kindergarten,
Winter Park, Florida
"The first five years are the most sensitive and impressionable years, and Flourishing the First Five Years can help parents and educators make a head start. It is a must-read!"
—Regina Cabadaidis, preschool/kindergarten teacher at S. D. Spady Elementary School,
Delray Beach, Florida
Published by Rowman & Littlefield Education, November 2013
Available in hardcover or paperback, 190 pages
ISBN-10: 1475803184