Positively Smarter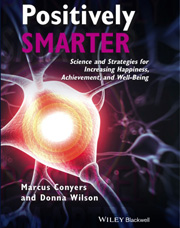 Positively Smarter brings together seven principles for connecting the science of neuroplasticity to practical strategies for enhancing the synergy of happiness, achievement, and physical well-being.
Moving beyond common myths, the text builds an evidence-based paradigm to empower readers to take practical steps to move forward.
Brings together current research on cognitive psychology, education (learning), and implications of neuroscience to suggest powerful ways to enhance the kind of cognitive function and productivity that leads to happiness and success.
Applies implications of current research showing that happiness is a skill and that positive affect can lead to higher levels of creative problem solving, productivity, achievement, and well-being.
Shares research and strategies for supporting physical activity and nutrition that may enhance neuroplasticity, cognitive performance, and positive affect.
Puts learners first and then brings in the science, presenting creative or adaptive strategies that can be applied in the real world.
Includes action assessments to guide readers in taking concrete steps to achieve the goals they set for themselves.
Identifies deeply held assumptions that innate talent, genes, socioeconomic status, and ethnicity mean that a significant percentage of the population lacks the neurocognitive potential to achieve at higher levels.
Draws on the authors' research from a broad range of fields in order to maximize the positive impact of a synergistic approach.