Learn With Us
Learn With Us…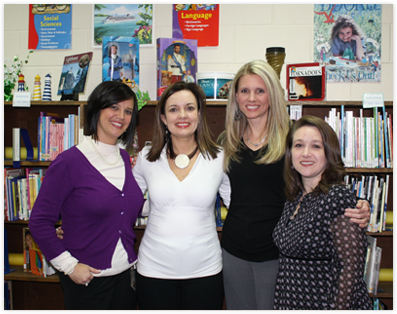 Donna Wilson, second from left, with Georgia teachers (from left) Donna Garland, Dawn Crane,
and Mandy Ingram, after her presentation at a suburban Atlanta school. The teachers are all
graduates of the degree programs with a major in Brain-Based Teaching that Wilson co-developed.
International presenter and best-selling author Dr. Donna Wilson will give your educators dynamic, research-based keynotes and professional development based on her many books and on graduate programs she has co-developed in brain-based teaching, learning, and leading.
Most districts start with "BrainSMART® Science and Strategies for Increasing Student Learning," a powerful introduction to the Wilson and Conyers BrainSMART process for effective teaching. Additional workshops include "Tools for BrainSMART Reading: Strategies for Increasing Reading Achievement" and "Brain-Based Leading: The New Science of Leading for Results."
---
Experience the workshops that have earned praise from educators:
"Donna's dynamic workshops give teachers specific strategies that actually help students achieve at higher levels. This training is great! My staff loves BrainSMART."
—Jeanne Zehr, Principal, Ft. Wayne, Ind.
"This is a powerful presentation for policy makers and education leaders who wish to improve the academic outcomes of all students by connecting research and theory to practice. We would recommend Dr. Donna Wilson for future speaking engagements, and we look forward to reading more of her work."
—Deborah S. Adams, President, National Association of Early Childhood Specialists in State Departments of Education
---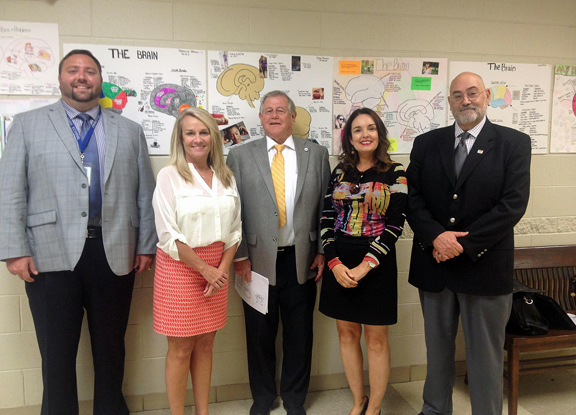 Donna with the Blue Ribbon Schools of Excellence team in Huntsville, Ala.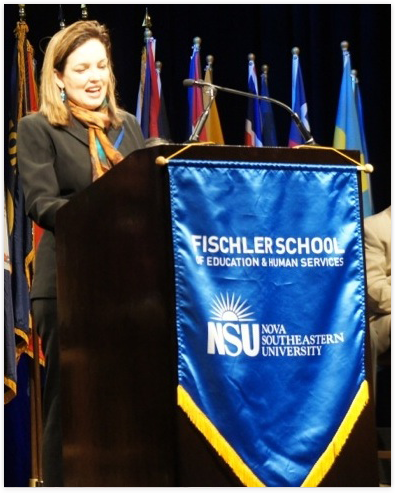 Dr. Wilson speaking to a group of more than 1,000 educators at Nova
Southeastern University's Global Leadership Conference.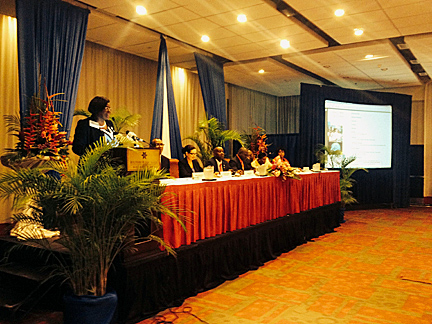 On April 9, 2015, the day President Obama visited Jamaica, Dr. Wilson opened the annual meeting of the Jamaica Teachers
Association's National Annual Conference. This presentation served as a kick-off for Dr. Wilson's countrywide initiative in
support of Jamaican teachers.
Donna Wilson and Marcus Conyers are proud to have presented with… ASCD, Title I, Learning and the Brain Conference at Harvard University and the Massachusetts Institute of Technology, Learning Forward, Blue Ribbon Schools of Excellence, National Board for Professional Teaching Standards, National Association of Federal Education Programs Administrators, American Educational Research Association, American Association of Colleges for Teacher Education (AACTE), International Reading Association, National Staff Development Council, Leiden University The Netherlands, Council on Teacher Education (CTE), University of Central Florida, Gulf Coast University, Fort Myers, Florida, National Education Association (NEA), National Association of Elementary School Principals, Cambridge University, Bell Cambridge International School, Midwest Brain and Learning Conference, National Association of Secondary School Principals, Valencia College, Winter Park, Florida, International Association of Cognitive Education and Psychology, Fischler School of Education's Global Leadership Institute, Annenberg Challenge Foundation, Jamaica Teachers Association, Jamaica Teaching Council Joint Special Operations University in Fort Walton Beach, FL, Ryerson Polytechnic Institute of Technology, Toronto, McMaster University Hamilton, Ontario,  Mohawk College of Arts and Technology, Ontario,  International Institute for the Enhancement of Learning Potential in Jerusalem, Israel, Florida Atlantic University, Emory Riddle University, Barry University, Miami Shores, Florida, Virginia Department of Education's Career and Technical Education, Florida School for the Deaf and Blind, Center on Enhancing Early Learning Outcomes, National Association of School Psychologists, Rollins College, Abu Dhabi Women's College, Alverno Alpena College, Michigan, International Education Group in Abu Dhabi and Dubai, UAE, South African Principals Association, Seminole County Community College, Florida, Nova Southeastern University, Carl Albert State College, Poteau, Oklahoma, and with teachers and administrators in states and districts throughout North America, including: West Palm Beach, FL; Atlanta; Washington, DC; Birmingham, AL; Salt Lake City, UT; Columbus, OH; Fort Lauderdale, FL; Tampa, FL; Nashville, TN; Miami; Los Angeles; Corpus Christi, TX; Beaumont, TX; Denver; Jacksonville, FL; Orlando, FL; Tallahassee, FL; Biloxi, MS; Charleston, SC; Norfolk, VA; Pensacola, FL; Roanoke, VA; New York; Portsmouth, NH; Burlington, VT; Fredericton, NB, Canada; Toronto, ON, Canada; Bowling Green, KY; Flint, MI; St. Louis; Kansas City, KS; Little Rock, AR; Des Moines, IA; Brainerd, MN; Lake Tahoe, NV; Las Vegas; Billings, MT; Sioux Falls, SD; Fargo, ND; Phoenix; Vancouver, WA; Chicago; Savannah, GA; Macon, GA; San Francisco; Lafayette, LA; Houston; Boston; Baltimore; Atlantic City, NJ; Dallas; Amarillo, TX; Seattle; Brantley County, GA; Lubbock, TX; Fort Worth, TX; Alexandria, VA; Blount County, AL; Virginia Beach, VA; Austin, TX; Elmwood, WI; San Antonio, TX; Dunlap, TN; Lawton, OK; Scranton, PA; Heavener, OK; Philadelphia; Manchester, NH; Gainesville, GA; Gulf Shores, AL; San Diego; Saginaw, MI; Enid, OK; Saratoga Springs, NY; Bismarck, ND;  Rome, GA; Panama City, FL; Hyannis, MA; Anderson, SC; Newton, NC; Cairo, GA; Chicago, IL; Florence, AL; Jacksonville, NC; Lake Guntersville, AL; Oneonta, AL; Indianapolis; Concord, MA; Lake City, FL; Greenville, MI; Minneapolis; Port Charlotte, FL; Oklahoma City, OK; Calgary, AB, Canada; Montgomery, AL; Midland, TX; Mobile, AL; Lancaster, SC; Livingston, LA; Hahira, GA; Columbus, GA; Newton, NJ; Los Fresnos, TX; Fort Myers, FL; Kennesaw, GA; Lafourche Parish, LA; Edmond, OK; Warner-Robins, GA; Houma, LA; Stuart, FL; Vineland, NJ; Rifle, CO; Detroit, MI; Calhoun, GA; St. Tammany Parish, LA; Port St. Lucie, FL: Dalton, GA; Hugo, OK; Jefferson Parish, LA; Augusta, GA; Sarasota; FL; Roaring Fork, CO; Lake George, NY; Franklin Parish, LA; Basalt, CO; Aurora, CO; Okeechobee, FL; Abilene, TX; Cartersville, GA; Lawrenceville, GA; Sanibel Island, FL; Daphne; AL; Snellville, GA; Dallas; Waycross, GA; Micanopy, FL; Nahunta, GA; New Orleans, LA; Portland, ME; Vancouver, BC, Canada; and Daytona Beach, FL.

Visit the Contact Us page to inquire about Dr. Wilson's availability for a speaking engagement in a district, state, or national event.